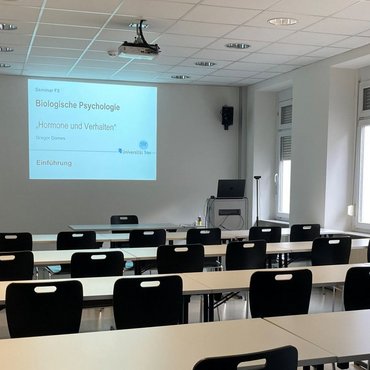 Informationen about curricular courses in Bachelor and Master: [→ read more]
Detailed information about courses in the current semester can be found in [→ PORTA].
General information and comments about the exam in modul "F Biological Psychology" [→ read more]
The exam can be taken in every semester. Contents and details about place and time in the current semester will be communicated in the lecture or here.
Recent information and offers for open slots. Bachelor and Master thesis themes will be assigned on January 15th and June 15th for the following semester. [→ read more].
Please send your application via this [→ form] to [→ Anne Balmes].
In the colloquium, students present and discuss their thesis projects in thie department. You can find information and the current plan here [→ read more].
Sign up with → Sevim Nuraydin.
Extracurricular courses
Information about the block seminar "Clinical Psychopharmacology for Psychologists" with Prof. Dr. Dr. Bergemann can be found here [→ read more]
Offers for work placements, Hiwi jobs and much more.